By FPL_Suzanne
There is nothing like a rescue dog – or rescue pet, for that matter! In honor of Rescue Dog Day on Friday, May 20, let's talk about the benefits, happiness, love, and good feelings that come from adopting a rescue/shelter dog.
First off, when you adopt a rescue dog, you are not only saving the life of the dog you're adopting but opening a spot for another dog to take that empty spot in the shelter. Therefore, two pups' lives are saved and on their way to better lives. 
If you are adopting a dog that's not a puppy, another benefit is that you get to see the dog's personality when you meet them at the shelter. You will not have to wait to see what their personality will be like because it's already in place. Another plus to adopting a non-pup is that the housetraining or housebreaking is already done! Please don't get me wrong, puppies are precious and so worthy of adopting! However, so many of the dogs in shelters are adult dogs or senior dogs. Everyone deserves a fur-ever home! ?
Adopting from a shelter or a rescue offers such a variety to choose from. Mutts come in all shapes, sizes, and ages. You get to visit with them at the shelter and get a good idea of what breed, size, age, and personality will fit with your family.
Lastly, adopting a dog is less expensive than buying from a breeder. Shelters have lower fees and sometimes will waive the adoption fee.
These cuties can be found on Petfinder.com, opens a new window: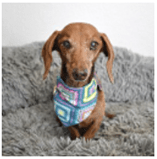 This sweet boy is my rescue dog, Gideon. He's five years old. We adopted him when he was a little over one year old.
Here's a list of picture books about rescue/shelter dogs that the whole family can enjoy together:
To the Rescue!, opens a new window
If you are interested in adding a furry, four-legged dog friend to your family, click on one of the links below to see what is available in the Frisco area:
Animal Shelter Resources, opens a new window
Animal Shelters, opens a new window
Frisco Humane Society, opens a new window
Legacy Humane Society, opens a new window
Habitat 4 Paws Frisco, opens a new window