By FPL_ElizabethH
"You made that?!"
"How long have you been drawing?"
"Oh, it's so pretty!"
These phrases have been floating around as we slowly decorate our new cubicles. Art is everywhere! So, I went on a mission to discover what my colleagues like to create in their spare time. When I asked them to share, some quickly added they had made the piece a long time ago, or they thought it needed to be better before sharing it since they were beginners. However, that didn't matter because they created it, and I loved seeing everything they shared. It inspired me to start sketching again, which I haven't done in years. I hope it inspires you to start a new creative project or return to an old creative pursuit.
Be sure to check out our online resources to help you get started.
Start a New Hobby, opens a new window
Check out these other blog posts about the FPL Staff
Pets of Frisco Public Library, opens a new window
Library Staff Favorite Books of 2021, opens a new window
Library Staff Prom Throwbacks, opens a new window
AshleyR: Youth Services

"Finally passed my waiting period for starting a new hobby! How is it made? Felt and hot glue! And some snipping.
Bella would like to remind you all to stop and smell the flowers tomorrow. (Picture: Blue Flowers)
Made Bella a primrose. She isn't impressed. (Picture: Pink Flower)"
Isabel: Youth Services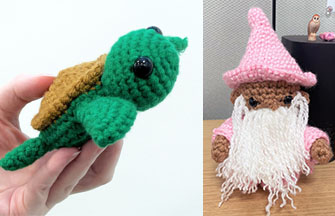 "I started in March 2021 because I saw a random video where someone was talking about crocheting. I thought it'd be fun, so I grabbed the stuff to start. I made a small granny square blanket, but I realized I wanted to do smaller things, which is why I started with amigurumi, or the little animals and things I make. I made a little cow for my friend, and it spiraled from there."
Jazmin: Adult Services

"OKAY, so these were taken in Middle school. I tried to find my high school ones, but these will do. ALSO MIND YOU, camera quality back in the day was not good." (Jazmin is one of the youngest library assistants so "back in the day" wasn't so long ago.)
"Yeah, I love it [photography] but I feel l don't have time for it. But I do take polaroids! […] I think coming back to it would bring back the spark but it's tough since I have so much to think about these days." (Jazmin is currently working on her master's in clinical mental health counseling at University of North Texas. We are all cheering her on!)
JenB: Youth Services

"This is from years ago–at least 15. I love samplers."
John: Adult Services

John created this candle wrap inspired by a Christmas market he had been to during his travels. He used poster board and designed it on Inkscape, a vector graphics software. He then used the library's laser cutter to cut out and engrave the design.
JulieC: Youth Services

"This is from years past–it's a print of an acrylic etching from an art class."
Kendall: Youth Services

"I primarily draw fan art for movies and tv shows because of an overabundance of enthusiasm for my favorite stories. These two digital drawings are fan art for the movies Dune and Annihilation. Most of the time I draw digitally using Procreate on an iPad, but I return to my plain ol' trusty pencil every once in a while."
Lauren: Youth Services

After some gentle nudging from friends (aka library staff), Lauren started digital art in January 2023. She used Procreate, a graphics editor app, to create the cute cherry and peach.
"Robert is a good peach. If you would like to call Robert by a nickname, either Rob or Robby, but never Bob. NEVER BOB."
The cherry, sadly, currently doesn't have a name.
Lauren has been doing origami for a few years, mostly stars and cranes. Origami stars are considered lucky. She has a personal jar star and has given stars to other staff for good luck.
Libby: Youth Services

"I like to make collages because they are messy, and you never know what the end product will be! I usually use old magazines and recycled books for my collages."
Marie: Youth Services

"When my sister told me she was having a baby, I decided I needed to learn how to not only sew, but also quilt, so that I could make a one-of-a-kind baby blanket for my nephew. I had never even used a sewing machine, but I was determined to make a baby quilt! What started as a whim has quickly become one of my favorite crafty hobbies. Since that first baby quilt two years ago, I have finished two more quilts–one coming in quite large at 66" by 84", and a Halloween cat quilt. I just recently completed the top for my 4th, a snowflake quilt, and am already choosing prints and colors for my next quilt! Quilting is a lot like doing a puzzle, and it's so much fun to see it come together from simple pieces of fabric to a cozy blanket that can be used for years to come." 
Sam: Adult Services

Crocheted 'Book Log'
"I recently started teaching myself some basic crochet stitches using mostly YouTube tutorials and trial and error. I decided to make a blanket that tracks the books I read this year. Each color is for a different genre, and I do a certain number of rows based on how long the book was. I've only got a few done so far but I am loving the process and it's pushing me to read more books!?
Pour painting
"I got into pour painting a few years ago. It's a great stress-reliever and so much fun to take a bunch of colors and pour them onto a canvas and see what happens. No two paintings are ever alike!"
Sheri: Adult Services

"Pour Painting 1 is my favorite. I love the colors, which did not come through the best in this photo. It was my first time to pour paint and it was so fun! Having my friends to teach me and help me through the freak out moments was part of that. It is acrylic on canvas. Paint was layered in a cup, topped with the canvas, both inverted and the cup removed. Then human manipulation distributed the paint, and it was allowed to drip off the canvas. Pour Painting 2 reminds me of water on the beach, foaming and swirling as it slides back into the ocean."