By FPL_John
Did you know that if you can't find a book you want in our library, you can request it from other libraries? There's no charge if you are a Frisco resident and a nominal $2.50 postal fee for all non-residents.
Here's how it works:
1. Go to friscolibrary.com and scroll to the bottom of the page.
2. Click on "Interlibrary Loan"
3. You'll be taken to a page that explains how the program works. Click on the link https://texasgroup.worldcat.org/.
4. You'll be taken to a search bar. Search for the title you want.
5. Look down the results and click on the item you want. Be sure to pay attention to the format, i.e. Print book, Video, DVD, or Audio CD.  Even though digital books are listed, you can't request them through this system.
6. When you click on the title you want, you'll see a list of libraries that have it. Don't click on the library itself.  Instead, click on the blue box on the right that says "Request Item".
7. You'll be asked to choose your home library.  Choose "Frisco Public Library".
8. You'll be prompted to enter your username and password. This is the same as your Frisco Public Library card number and Password.  Then press "Login"
You're almost there!  Don't give up!  Reading paradise awaits!
9. Now you'll see the final form. It'll have the details of what you are requesting.  The only field you have to fill out is the "E-mail Address of Requestor".  No need to add anything to the other fields.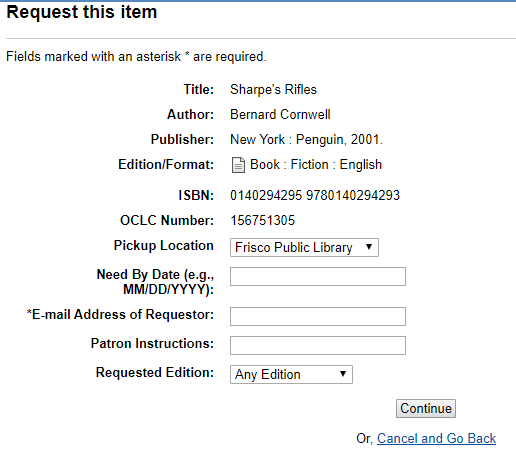 10. Once you have entered your email address, just click "Continue".
11. Congratulations! You've done it!  The item has been requested and you now know how to use this great resource to request books from libraries all over Texas.  Your item will arrive within 2-7 weeks.